Alright, it's go time.
I ended up finding 5 writers, and I'm running a trial with all of them to get an idea of their individual style (and cost).
My plan so far is to do my own keyword research to find out what topics we should be writing about in the niche, then give each writer a brief outline of what the post should look like.
I'm doing all my research with ahrefs, which is my favorite SEO tool to identify what people are searching for, and how hard it will be to rank on the first page of Google.
It's not difficult writing articles for this niche, but it does require a certain sense of good taste.
I'm also contributing some content to keep my costs down, and I'm enjoying the process which is always a good sign.
Key Metrics
Considering we had started in the middle of October, we ended up blasting out quite a few articles this month.
Everyone seems to be willing to keep up with the volume, we'll see if that's the case over time.
| | |
| --- | --- |
| Total Posts published | 23 |
| Posts published in Month 1 | 23 |
Rankings
It's always a bit depressing checking out Search Console for the first year of a site, but this should give a realistic expectation of the progression over time.
| | |
| --- | --- |
| Date Checked | November 1 2022 |
| Avg. Position | 18.1 |
| Position in Top 3 on SERPS | 0 |
| Position in Top 10 on SERPS | 0 |
| Position in Top 50 on SERPS | 65 |

Traffic
I was expecting 0 traffic this month (minus the writers and I hitting the site), but was surprised to find some new people finding the site already.
| | |
| --- | --- |
| Time Period | Oct 8-Nov 1 |
| Monthly Pageviews | 356 |
| Engagement time | 1:44 |
| Pages/Session | 1.73 |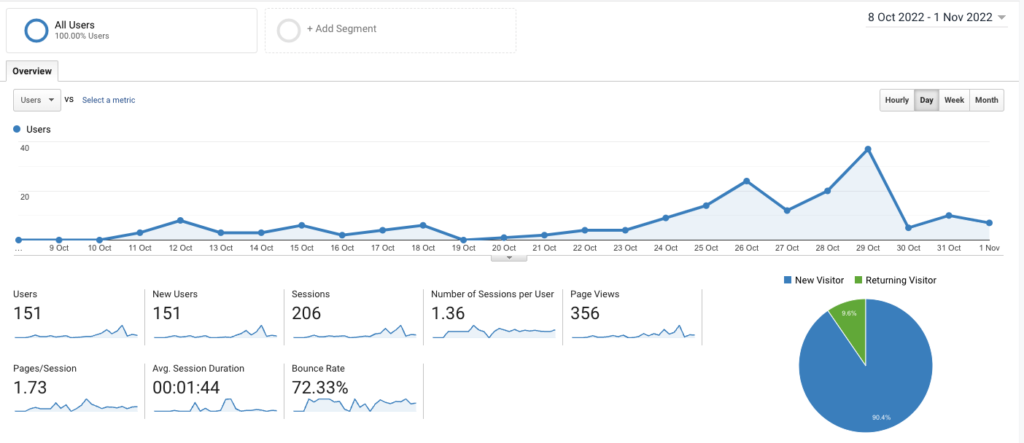 Expenses
| | |
| --- | --- |
| Time Period | October 8-Nov 1 |
| Writers | $1643 |
What I've learned this month
It's always exciting to launch a new project, but it's a bit chaotic right now.
I haven't quite figured out the proper format, voice, and tone for all the writers, but I'll try to have something a little more locked down for next month once I decide on who to keep around.
We went after some pretty big keywords that we have no chance to rank for since the site is so new, but I like getting a few out of the way at the start so they can simmer in Google for a bit.
Plans for next month
Define the post format a bit better, and figure out which writers excel in certain areas.
I also want to start targeting some middle-ground keywords as well as some really low-hanging fruit that I'm hoping we can start ranking for right away.
Related
Starting a niche site from scratch