Things have been going pretty well, and I'm starting to figure out which writers I want to stick with, and which ones I'm going to stop using.
I ended up finding 2 experts in the subject, and they've been a great help in putting together insights that I haven't been able to find otherwise.
I tried experimenting with an agency that writes content, and the results have been surprisingly great. It's a little more expensive than my other writers, but they tend to be much more in-depth.
Key Metrics
We're roughly keeping up the same pace as last month, and hiring the agency helped with a few extra articles.
| | |
| --- | --- |
| Total Posts published | 73 |
| Posts published in Month 1 | 23 |
| Posts published in Month 2 | 50 |
Rankings
Google is starting to pick up a lot of the content, but I noticed there were some pages that still weren't being indexed.
At this point, I'm going into Google Search console after after post is published, and submitting it manually to help try to speed up the process.
| | |
| --- | --- |
| Date Checked | December 1 2022 |
| Avg. Position | 21.7 |
| Position in Top 3 on SERPS | 0 |
| Position in Top 10 on SERPS | 2 |
| Position in Top 50 on SERPS | 168 |

Traffic
We got a little bit of extra traffic this month due to some links on social.
One of my writers ended up linking to one of her articles, and some traffic some Pinterest is making up for almost 50% of total traffic (more on this later).
| | |
| --- | --- |
| Time Period | Nov1-Nov 30 |
| Monthly Pageviews | 518 |
| Engagement time | :53 |
| Pages/Session | 1.56 |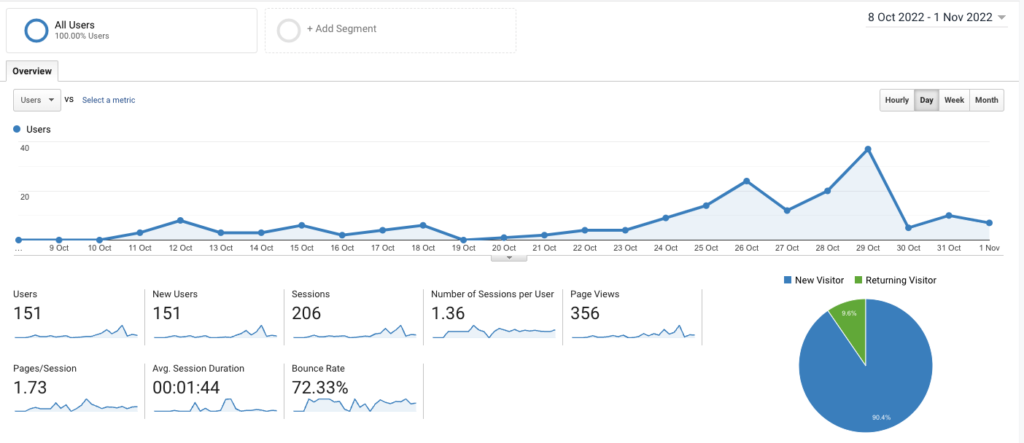 Expenses
I knew this month was going to be expensive because all of my writers are going at the same time, and I'm paying more for trying out a few agencies.
I expect it to drop down a bit next month (hopefully).
| | |
| --- | --- |
| Time Period | October 8-Nov 1 |
| Writers | $2366 |
What I've learned this month
Upwork charges a 20% fee to my writers, which is borderline ridiculous.
While it's been pretty handy to find people, it doesn't make any sense to stay on that platform once I've made the connections with people I'll be continuing to work with.
I also have some slight hesitations on if I've picked the right niche. It's not a very transactional niche (the content is primarily to generate ideas for the end user), so any ad revenue will be significantly lower than what I'm used to.
Or maybe I'm wrong, we'll see!
Plans for next month
Now that we've covered a bunch of competitive keywords, I'm going to start targeting search terms that have no competition at all.
I'm finding these search terms by looking for long tail keywords in my genre, with a minimum of 4 words.
An example would be something like: "best knife for cutting steak" or "watercolor paint for skin tones."
This should hopefully get us ranking faster than everything else, even though it won't be driving too much traffic.
Related
Starting a niche site from scratch